A survey on biometric cryptosystems and cancelable biometrics
EURASIP Journal on Information Security
2011
2011:3
Received: 18 February 2011
Accepted: 23 September 2011
Published: 23 September 2011
Abstract
Form a privacy perspective most concerns against the common use of biometrics arise from the storage and misuse of biometric data. Biometric cryptosystems and cancelable biometrics represent emerging technologies of biometric template protection addressing these concerns and improving public confidence and acceptance of biometrics. In addition, biometric cryptosystems provide mechanisms for biometric-dependent key-release. In the last years a significant amount of approaches to both technologies have been published. A comprehensive survey of biometric cryptosystems and cancelable biometrics is presented. State-of-the-art approaches are reviewed based on which an in-depth discussion and an outlook to future prospects are given.
Keywords
biometricscryptographybiometric cryptosystemscancelable biometricsbiometric template protection
1. Introduction
The term biometrics is defined as "automated recognition of individuals based on their behavioral and biological characteristics" (ISO/IEC JTC1 SC37). Physiological as well as behavioral biometric characteristics are acquired applying adequate sensors and distinctive features are extracted to form a biometric template in an enrollment process. At the time of verification or identification (identification can be handled as a sequence of verifications and screenings) the system processes another biometric input which is compared against the stored template, yielding acceptance or rejection [1]. It is generally conceded that a substitute to biometrics for positive identification in integrated security applications is non-existent. While the industry has long claimed that one of the primary benefits of biometric templates is that original biometric signals acquired to enroll a data subject cannot be reconstructed from stored templates, several approaches [2, 3] have proven this claim wrong. Since biometric characteristics are largely immutable, a compromise of biometric templates results in permanent loss of a subject's biometrics. Standard encryption algorithms do not support a comparison of biometric templates in encrypted domain and, thus, leave biometric templates exposed during every authentication attempt [4] (homomorphic and asymmetric encryption, e.g., in [5–7], which enable a biometric comparison in encrypted domain represent exceptions). Conventional cryptosystems provide numerous algorithms to secure any kind of crucial information. While user authentication is based on possession of secret keys, key management is performed introducing a second layer of authentication (e.g., passwords) [8]. As a consequence, encrypted data inherit the security of according passwords applied to release correct decrypting keys. Biometric template protection schemes which are commonly categorized as biometric cryptosystems (also referred to as helper data-based schemes) and cancelable biometrics (also referred to as feature transformation) are designed to meet two major requirements of biometric information protection (ISO/IEC FCD 24745):
Irreversibility: It should be computationally hard to reconstruct the original biometric template from the stored reference data, i.e., the protected template, while it should be easy to generate the protected biometric template.

Unlinkability: Different versions of protected biometric templates can be generated based on the same biometric data (renewability), while protected templates should not allow cross-matching (diversity).
"
Biometric cryptosystems (BCSs) are designed to securely bind a digital key to a biometric or generate a digital key from a biometric
" [
9
] offering solutions to biometric-dependent key-release and biometric template protection [
10
,
11
]. Replacing password-based key-release, BCSs brings about substantial security benefits. It is significantly more difficult to forge, copy, share, and distribute biometrics compared to passwords [
1
]. Most biometric characteristics provide an equal level of security across a user-group (physiological biometric characteristics are not user selected). Due to biometric variance (see Figure
1
), conventional biometric systems perform "fuzzy comparisons" by applying decision thresholds which are set up based on score distributions between genuine and non-genuine subjects. In contrast, BCSs are designed to output stable keys which are required to match a 100% at authentication. Original biometric templates are replaced through biometric-dependent public information which assists the key-release process.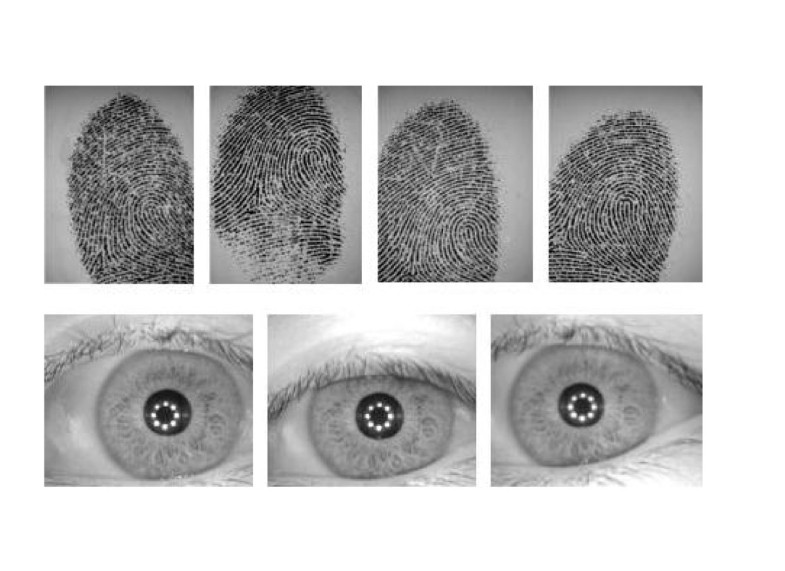 "Cancelable biometrics (CB) consist of intentional, repeatable distortions of biometric signals based on transforms which provide a comparison of biometric templates in the transformed domain" [12]. The inversion of such transformed biometric templates must not be feasible for potential imposters. In contrast to templates protected by standard encryption algorithms, transformed templates are never decrypted since the comparison of biometric templates is performed in transformed space which is the very essence of CB. The application of transforms provides irreversibility and unlinkability of biometric templates [9]. Obviously, CB are closely related to BCSs.
As both technologies have emerged rather recently and corresponding literature is dispersed across different publication media, a systematic classification and in-depth discussion of approaches to BCS and CB is given. As opposed to existing literature [4, 8], which intends to review BCSs and CB at coarse level, this article provides the reader with detailed descriptions of all existing key concepts and follow-up developments. Emphasis is not only placed on biometric template protection but on cryptographic aspects. Covering the vast majority of published approaches up to and including the year 2010 this survey comprises a valuable collection of references based on which a detailed discussion (including performance rates, applied data sets, etc.) of the state-of-the-art technologies is presented and a critical analysis of open issues and challenges is given.
This survey is organized as follows: BCSs (Section 2) and CB (Section 3) are categorized and concerning literature is reviewed in detail. A comprehensive discussion including the current state-of-the-art approaches to both technologies, security risks, privacy aspects, and open issues and challenges is presented and concluding remarks are given (Section 4).
2. Biometric Cryptosystems
The majority of BCSs require the storage of biometric-dependent public information, applied to retrieve or generate keys, which is referred to as helper data [
4
]. Due to biometric variance it is not feasible for most biometric characteristics to extract keys directly. Helper data, which must not reveal significant information about original biometric templates, assists in reconstructing keys. Biometric comparisons are performed indirectly by verifying key validities, where the output of an authentication process is either a key or a failure message. Since the verification of keys represents a biometric comparison in encrypted domain [
11
], BCSs are applied as a means of biometric template protection [
4
], in addition to providing biometric-dependent key-release. Based on how helper data are derived, BCSs are classified as key-binding or key-generation systems (see Figure
2
):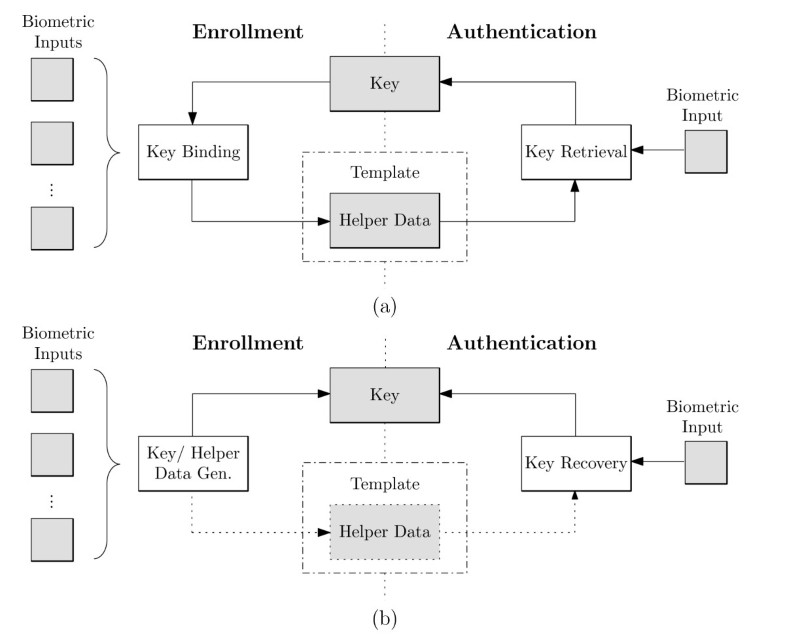 (1)

Key-binding schemes: Helper data are obtained by binding a chosen key to a biometric template. As a result of the binding process a fusion of the secret key and the biometric template is stored as helper data. Applying an appropriate key retrieval algorithm, keys are obtained from the helper data at authentication [8]. Since cryptographic keys are independent of biometric features these are revocable while an update of the key usually requires re-enrollment in order to generate new helper data.

(2)

Key-generation schemes: Helper data are derived only from the biometric template. Keys are directly generated from the helper data and a given biometric sample [4]. While the storage of helper data are not obligatory the majority of proposed key-generation schemes does store helper data (if key-generation schemes extract keys without the use of any helper data these are not updatable in case of compromise). Helper data-based key-generation schemes are also referred to as "fuzzy extractors" or "secure sketches", for both primitives formalisms (and further extensions) are defined in [13, 14]. A fuzzy extractor reliably extracts a uniformly random string from a biometric input while stored helper data assist the reconstruction. In contrast, in a secure sketch, helper data are applied to recover the original biometric template.
Several concepts of BCSs can be applied as both, key-generation and key-binding scheme [15, 16]. Hybrid approaches which make use of more basic concepts [17] have been proposed, too. Furthermore, schemes which declare different goals such as enhancing the security of an existing secret [18, 19] have been introduced. In contrast to BCSs based on key-binding or key-generation, key-release schemes represent a loose coupling of biometric authentication and key-release [8]. In case of successful biometric authentication a key-release mechanism is initiated, i.e., a cryptographic key is released. The loose coupling of biometric and cryptographic systems allows to exchange both components easily. However, a great drawback emerges, since the separate plain storage of biometric templates and keys offers more vulnerabilities to conduct attacks. Key-release schemes do not meet requirements of biometric template protection and, thus, are hardly appropriate for high security applications and not usually considered a BCS. Another way to classify BCSs is to focus on how these systems deal with biometric variance. While some schemes apply error correction codes [15, 16], others introduce adjustable filter functions and correlation [20] or quantization [21, 22].
Even though definitions for "biometric keys" have been proposed (e.g., in [23, 24]), these terms have established as synonyms for any kind of key dependent upon biometrics, i.e., biometric features take influence on the constitution of keys (as opposed to key-binding schemes). Like conventional cryptographic keys, biometric keys have to fulfill several requirements, such as key-randomness, stability, or uniqueness [25, 26].
3. Cancelable biometrics
Cancelable biometric transforms are designed in a way that it should be computationally hard to recover the original biometric data (see Figure
12
). The intrinsic strength (individuality) of biometric characteristics should not be reduced applying transforms (constraint on FAR) while on the other hand transforms should be tolerant to intra-class variation (constraint on FRR) [
12
]. In addition, correlation of several transformed templates must not reveal any information about the original biometrics (unlinkability). In case transformed biometric data are compromised, transform parameters are changed, i.e., the biometric template is updated. To prevent impostors from tracking subjects by cross-matching databases it is suggested to apply different transforms for different applications. Two main categories of CB are distinguished [
4
]: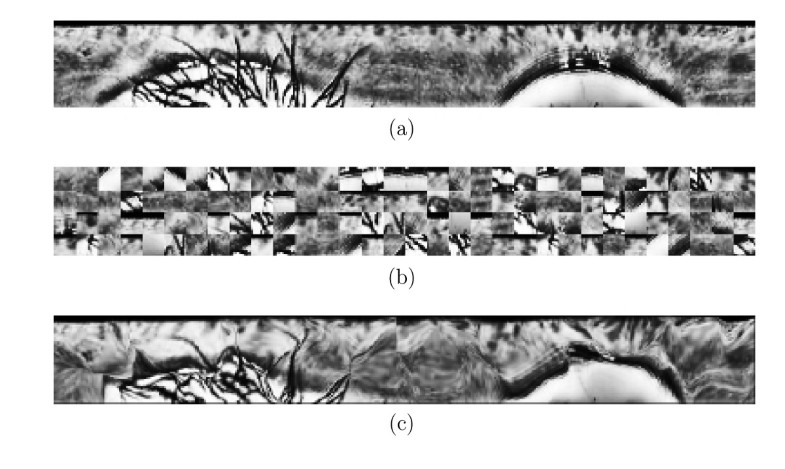 (1)

Non-invertible transforms: In these approaches, biometric data are transformed applying a noninvertible function (e.g., Figure 12b,c). In order to provide updatable templates, parameters of the applied transforms are modified. The advantage of applying non-invertible transforms is that potential impostors are not able to reconstruct the entire biometric data even if transforms are compromised. However, applying non-invertible transforms mostly implies a loss of accuracy. Performance decrease is caused by the fact that transformed biometric templates are difficult to align (like in BCSs) in order to perform a proper comparison and, in addition, information is reduced. For several approaches these effects have been observed [12, 136].

(2)

Biometric salting: Biometric salting usually denotes transforms of biometric templates which are selected to be invertible. Any invertible transform of biometric feature vector elements represents an approach to biometric salting even if biometric templates have been extracted in a way that it is not feasible to reconstruct the original biometric signal [137]. As a consequence, the parameters of the transform have to be kept secret. In case user-specific transforms are applied, the parameters of the transform (which can be seen as a secret seed [102] have to be presented at each authentication. Impostors may be able to recover the original biometric template in case transform parameters are compromised, causing a potential performance decrease of the system in case underlying biometric algorithms do not provide high accuracy without secret transforms. While approaches to biometric salting may maintain the recognition performance of biometric systems non-invertible transforms provide higher security [4].
Approaches to CB can be classified further with respect parts of biometric systems in which transforms are applied. In the signal domain, transformations are either applied to raw biometric measurements (e.g., face image [
12
]) or to preprocessed biometric signals (e.g., iris texture [
138
]). In case transforms are applied in signal domain comparators do not need to be adapted. In feature domain extracted biometric features (e.g., face features in [
102
]) are transformed, thus, a compromise of transforms requires further effort in reconstructing the original biometric from the template. Experimental results of key concepts of CB are summarized in Table
4
.
Table 4
Experimental results of proposed approaches to CB.
| Authors | Char. | FRR/FAR | Remarks |
| --- | --- | --- | --- |
| Non-invertible transforms | | | |
| Ratha et al. [140] | | 15/10- 4 | - |
| | Fingerprint | | |
| Boult et al. [147] | | ~ 0.08 EER | - |
| Hammerle-Uhl et al. [138] | | 1.3 EER | - |
| | Iris | | |
| Zuo et al. [136] | | 0.005/0 | perf. increase |
| Maiorana et al. [146] | Online Sig. | 10.81 EER | - |
| Biometric salting | | | |
| Savvides et al. [137] | | 4.64/0 | Non-stolen token |
| Teoh et al. [91] | Face | 2·10 - 3EER | Non-stolen token |
| Wang et al. [157] | | 6.68 EER | - |
| Zuo et al. [136] | | 0.005/< 10 - 3 | perf. increase |
| | Iris | | |
| Ouda et al. [159] | | 1.3 EER | - |
| Teoh et al. [151] | Fingerprint | 5.31 EER | - |
| Other CB | | | |
| Jeong et al. [161] | Face | 14 EER | - |
| Tulyakov et al. [162] | | 25.9/0 | - |
| | Fingerprint | | |
| Ang et al. [164] | | 4 EER | - |
4. Discussion and outlook
Based on the presented key concepts of BCSs and CB a concluding discussion is done, including advantages and applications, potential attacks to both technologies, the current state-of-the-art, commercial vendors, and open issues and challenges.
Endnotes
apriv-ID B.V., The Netherlands, http://www.priv-id.com/.
bPerSay Ltd., Israel, http://www.persay.com/.
cGenkey AS, Norway (BioCryptics), http://genkeycorp.com/.
dPrecise Biometrics AB, Sweden, http://www.precisebiometrics.com/.
eSecurics Inc., Colorado Springs, CO, http://www.securics.com/.
Declarations
Acknowledgements
This work has been funded by the Austrian Science Fund, project no. L554-N15. We thank all the reviewers who significantly helped to improve this work.
Authors' Affiliations
(1)
Multimedia Signal Processing and Security Lab (Wavelab), Department of Computer Sciences, University of Salzburg, Salzburg, Austria
Copyright
© Rathgeb and Uhl; licensee Springer. 2011
This article is published under license to BioMed Central Ltd. This is an Open Access article distributed under the terms of the Creative Commons Attribution License (http://creativecommons.org/licenses/by/2.0), which permits unrestricted use, distribution, and reproduction in any medium, provided the original work is properly cited.