Foundations and applications of artificial Intelligence for zero-day and multi-step attack detection
EURASIP Journal on Information Security
2018
2018:4
Received: 21 November 2017
Accepted: 20 March 2018
Published: 24 April 2018
Abstract
Behind firewalls, more and more cybersecurity attacks are specifically targeted to the very network where they are taking place. This review proposes a comprehensive framework for addressing the challenge of characterising novel complex threats and relevant counter-measures. Two kinds of attacks are particularly representative of this issue: zero-day attacks that are not publicly disclosed and multi-step attacks that are built of several individual steps, some malicious and some benign. Two main approaches are developed in the artificial intelligence field to track these attacks: statistics and machine learning. Statistical approaches include rule-based and outlier-detection-based solutions. Machine learning includes the detection of behavioural anomalies and event sequence tracking. Applications of artificial intelligence cover the field of intrusion detection, which is typically performed online, and security investigation, performed offline.
Keywords
Zero-day attackMulti-step attackAnomaly detectionIntrusion detectionSecurity investigation
1 Introduction
An ever growing percentage of cyberattacks is explicitly targeted at a specific organisation in order to steal data, to perform industrial espionage or to execute sabotage or denial of service [1]. The most dangerous cyberattacks include zero-day attacks and complex attacks [2]. Although they are beginning to be better understood by the community, they remain difficult to track and to identify in the massive haystack of system logs and alerts. Artificial intelligence tools are thus required to find both unknown and complex attacks. Unknown attacks are known as zero-day attacks. They exploit previously unknown system flows. Around 4000 of them were exploited in 2015 and 2016, 160 of which concerned industrial control [1]. Complex attacks are known as multi-step attacks. The danger they pose often emerges from the consecutive execution of steps which taken individually are either innocuous or insufficient to be characterised as an aggression.
This paper provides a review of the two main approaches for tracking hard-to-find cyberattacks: statistical analysis and machine learning [3], which are the two domains of data analysis. Statistical analysis covers the extraction of statistical rules and outlier detection. Outlier detection in particular necessitates the availability of suitable distance metrics, which can be computed either between individual points or between full distributions as for Kullback-Leibler Divergence. Machine learning supports the extraction of behaviour anomalies and abnormal event sequences. Statistical analysis and machine learning are applied in two complementary steps of the security analysis process: intrusion detection for the online supervision of computer systems and infrastructures, and post event investigation for the characterization of a given event of interest. We identify four consecutive generations of Intrusion Detection System (IDS) solutions, which are now often integrated in commercial products: expert systems, alert correlation, data mining, and behavioural IDS. Post event investigation involves providing experts with suitable security information to guide the search for significant malicious events and when relevant to characterise the actual properties of the cyberattack that these events are an indication of.
In this work, we therefore propose a comprehensive framework for the study of complex attacks and related analysis strategies through statistical tools, on the one side, and machine learning tools, on the other side. It puts these complex attacks in perspective with their core applications in the security domain: detection and investigation. Although numerous works and review papers deal with individual issues of this framework [4–6], no comprehensive survey, which is a strong requirement for characterising novel threats and matching counter-measures, exist so far.
We first define the core security concepts used in this work and describe the hard-to-track anomalies and attacks we focus on, such as zero-day attacks and multi-step attacks in Section 2. Section 3 presents the statistical foundations of anomaly detection relevant to cybersecurity. Section 4 describes specific cybersecurity solutions that are based on these foundations and take advantage of machine learning techniques and Bayesian statistics to highlight one-off security issues and to model event sequences in order to identify multi-step intrusions. Section 5 introduces the architectures and processes of security detection and investigation that rely on these models.
2 Definitions
The terms used in this paper are defined in this section.
3 Statistical foundations of anomaly detection
Since AI technologies are now used by malevolent agents to perform cyberattacks [20], it is of crucial importance for the protection of IT infrastructures that defensive solutions support suitable protections. Numerous research studies present overviews of the domain, for example, from the point of view of anomaly detection [21] or data mining and machine learning [22].
A classification of the problems of anomaly detection is now presented, as well as the two main detection strategies: rule-based and outlier-detection-based anomaly detection.
4 Machine learning
The identification of unknown attacks faces two major challenges: first, the ability to detect behaviour anomalies, especially for identifying zero-day attacks and, secondly, the ability to track abnormal event sequences, so as to address APTs. Machine learning, as well as advanced statistics, represents methods of critical importance for the online detection of intrusions, on the one hand, and the offline, 'post-mortem' investigation of security issues, on the other.
4.1 Detection of behaviour anomalies
The detection of behaviour anomalies is a rich field of investigation for machine learning approaches. More specifically, recursive Bayesian estimation, which is used to model the behaviour of individual entities of IT systems, provides an alternative method for quickly identifying deviations of this model.
4.1.1 Benchmark of machine learning techniques
The systematic presentation of machine learning techniques is beyond the scope of this work. Several significant publications will help the reader find his/her way in this vast domain [42, 43], although none of them provides a comprehensive view of the subject.
For the evaluation of machine learning techniques, the KDD99 dataset [
44
], as well as its improved version NSL-KDD [
45
], are still widely used today, in spite of their age. Some recent surveys using them give a good overview of the methods and the results obtained [
4
–
6
]. Table
2
summarizes the performance of the algorithms contained in the Weka workbench on the KDD99 dataset, according to the evaluation made by Modi and Jain [
4
]. The authors calculated the Percentage of Successful Predictions (PSP) and the Training Time (TT) for each studied algorithm. The best results in terms of successful predictions are achieved by MARS (Multivariate Adaptive Regression Splines). Of course, the results are fully contextual for this specific benchmark, but nonetheless provide an estimation of the relative performance of the considered algorithms.
Table 2
Performance comparison of algorithms in Weka workbench on the KDD99 dataset [4]
| Algorithm | Percentage of successful prediction (%) | Training time (seconds) |
| --- | --- | --- |
| K-Means | 78.7 | 70.7 |
| NEA | 92.22 | 10.63 |
| FCC | 89.2 | 56.2 |
| ID3 | 72.22 | 120 |
| J48 | 92.06 | 15.85 |
| PART | 45.67 | 169 |
| NBTree | 92.28 | 25.88 |
| SVM | 81.38 | 222.28 |
| Fuzzy logic | 91.8 | 873.9 |
| Naive Bayes | 78.32 | 5.57 |
| BayesNet | 90.62 | 6.28 |
| Decision Table | 91.66 | 66.24 |
| Random Forest Classifier | 92.81 | 491 |
| Jrip | 92.30 | 207.47 |
| OneR | 89.31 | 3.75 |
| MLP | 92.03 | 350.15 |
| SOM | 91.65 | 192.16 |
| GAU | 69.9 | 177.4 |
| MARS | 96.5 | 67.9 |
| Apriori | 87.5 | 18 |
Since machine learning algorithms are typically difficult to parameterise, as well as very dependent on the quantity of the training data, it is likely that solutions focusing on a single technology will achieve better results. This may be the case for instance for neural networks, which have been the subject of significant progress in the last few years.
4.1.2 Recursive Bayesian networks
Bayesian classification models have proved to be efficient tools for intrusion detection [
46
,
47
]. Figure
7
shows an example of an anomaly detection approach based on Bayesian alert correlation [
48
] for IDS alerts. The process of alert correlation begins by the extraction of recent intrusion alerts. The comparison with historical intrusion alerts allows to extract the pseudo-Bayesian probabilities between a given event and its precursors. Based on these probabilities, the likelihood of alert correlation is computed for all relevant events. A threshold is applied to extract alert correlation graphs, which highlight alerts that are worth investigating.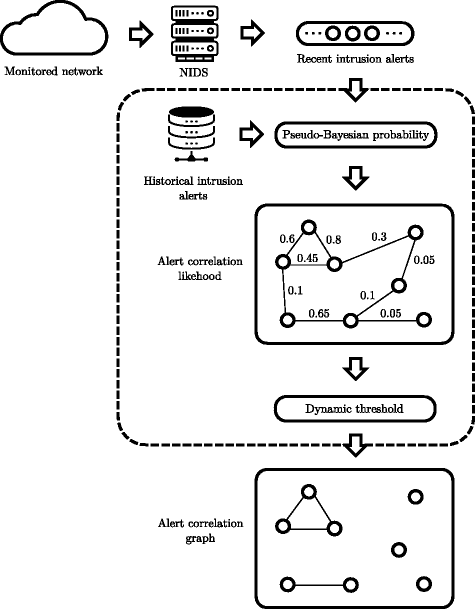 The application of this process for systems with evolving states is called recursive estimation [49]. When performing such a recursive estimation at the level of each network device, machine and system user, efficient solutions for the identification of access rights abuses or of intrusions can be devised.
4.2 Tracking abnormal event sequences
Machine learning is typically able to identify anomalous behaviours and it is therefore a serious candidate to improve the tracking of zero-day attacks. Multi-step attacks, however, are only visible through traces that are scattered in vast amounts of data over large time periods and on heterogeneous devices. Their identification therefore requires the ability to track abnormal event sequences and first of all to reconstruct these sequences. To achieve this, two significant contributions have been proposed by the community: Galois lattice to rank actions and taint analysis to trace the correlation between events. Both are based on oriented-graph models.
4.2.1 Galois lattice
A lattice is a mathematical object consisting of partially ordered sets, where each pair of elements has a unique least upper bound or supremum [50]. An example of a lattice is the set of natural numbers, which are partially ordered according to the divisibility operation: the least upper bound of an element pair is their least common multiple and their unique infimum is the greatest common divisor. A category theoretic approach to lattice leads to the use of Galois connections to build the lattice: in this case, the lattice is named a Galois lattice [51] and supports ordered relationships between compound elements from two different sets, provided these sets are monotonous. When the information is semantic rather than algebraic, the lattice becomes a concept lattice, according to Wille's theory of concepts [52]. It then supports formal concept analysis [53]. A comprehensive definition of concepts and Galois lattices can be found in [54].
Figure
8
shows an example of a Galois lattice for the reconstruction of a malicious event escalation [
55
]. The Galois lattice is built interactively: an event is codified through a Galois connection in the context of a pre-existing lattice. The event then inherits the properties of the matching lattice node, including meta-data such as the class of the performed action or the dangerousness level. To support the evolution of the reference Galois lattice
wrt
. the evolution of the system, this classification is validated by an expert. If modifications are required, the reference lattice is updated to integrate this new knowledge. In any case, either the incident is confirmed and suitable action is undertaken by the security operators or the risk level evaluation for the infrastructure being monitored is updated.

The classification of malicious actions can be used to rank the suspicious actions that take place inside an IT infrastructure, thereby announcing the escalation of dangerous actions and thus potentially an actual intrusion. Galois lattices support such ranking while taking into account multiple orthogonal security-related attributes.
4.2.2 Taint analysis
Taint analysis has the objective of systematically labelling paths available for data propagation. It originally comes from the world of static analysis and is increasingly used in the security domain both for the generation of virus signatures and for security investigation [56, 57].
The first application of taint analysis to security was designed for the automated detection and analysis of malicious exploits [58]. Beyond security-specific issues, a framework for the application of taint analysis to safety issues was proposed by [59].
An original application of taint analysis has recently been proposed for investigation by attack tracing and event correlation [
60
]. Figure
9
shows the signature derivation steps for tainted analysis of multi-step attacks [
61
]. The events, which are represented by the system logs, are first parsed, normalised and made available in a dedicated database. Then, the tainting operation itself is performed on this data according to taint policies and meta information, in order to generate the taint graphs of significant event sequences for the considered time period. Taint policies define the event attributes to be added to the set of taint sources or nodes, such as the IP address of the source or the communication protocol. Meta-information includes complementary data that enable the identification of indirect relations between attributes. Finally, signatures are derived from the taint graphs and stored for further analysis or exploitation in later investigations.

The signature format used by the authors is the
Event Description Language
(EDL) language. Figure
10
shows an example of a graph signature in the EDL language [
61
]. It is worth noting that attack signatures can entail several paths for a single attack or even several different attacks that can occur in a given context.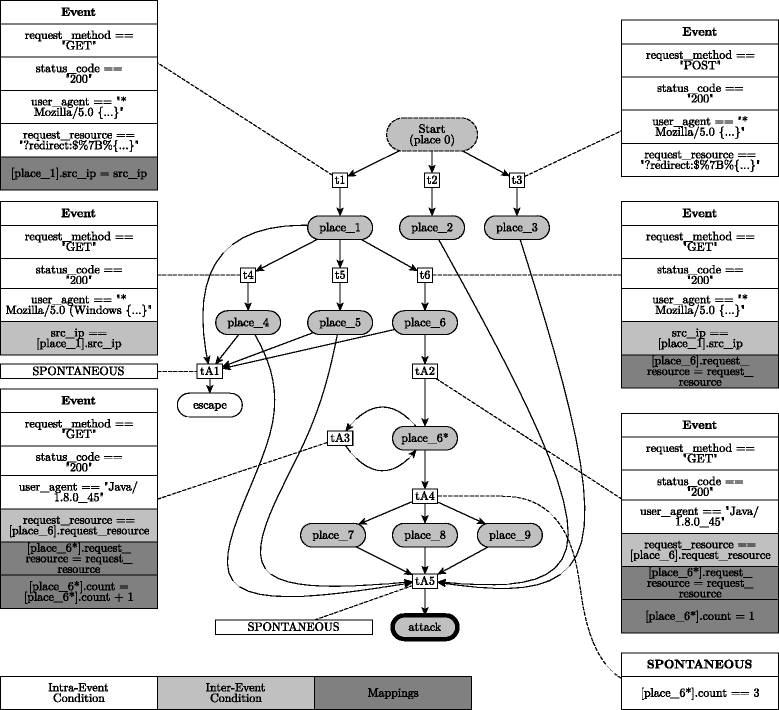 5 Applications
The applications of anomaly detection and event sequence tracking to security analysis, i.e. detection and investigation, are now presented.
5.1 Intrusion detection
The first and probably most popular facet of security analysis is intrusion detection. It is defined as "the process of monitoring for and identifying specific malicious traffic" [62]. The devices that can monitor host processes or network packets in the search of malicious actions are called Intrusion Detection Systems (IDS). They are classified into two types, according to the method used for detection: anomaly detection or signature-based detection [63]. There are also alternatives that combine the two approaches [64]. Many surveys of work in Intrusion Detection Systems exist, each focusing on a certain aspect of the problem [6, 11, 63, 65]. Based on this literature survey, we identify four consecutive generations of IDSs: expert systems, alert correlation-based systems, data mining approaches, and behavioural IDSs.
5.2 Security investigation
The second facet of security analysis is the so-called sleuthing or investigation. In case of ascertained network or system abuse, the reconstruction of the full-attack process and a detailed understanding of individual steps is necessary to be able to contain the attack, to patch damaged services and systems and to avoid repetition of similar attacks. Data mining is again a useful solution.
The process of security investigation relies more on the actions of the human user than intrusion detection. However, the amount of log data is steadily increasing, so that an automated support of the investigation process is of vital importance for its success. Figure
15
illustrates the process of data mining to support security investigation [
87
]. As in intrusion detection, the process starts with IDS alerts, which are stored in the IDS data-warehouse. Through data mining, activity patterns are extracted. The human investigators, for instance people from a Security Operating Center (SOC), start their work here. Through the interpretation of the activity patterns, insights are gained and highly focused manual verifications can be performed. When the root causes leading to the attack are determined, they can be fixed. Moreover, suitable filtering and correlation rules can be setup in the IDS to integrate the new aggressions as part as the IDS's knowledge. Clearly, systematic investigation is mandatory for the maintenance of operational and efficient IDSs. Figure
16
provides an example for a simple login to a Windows system using the anomaly signature language EDL [
88
], which is an attempt to provide a candidate language for solving this issue.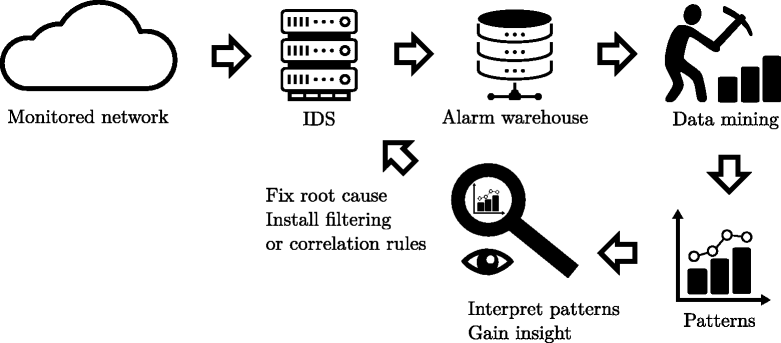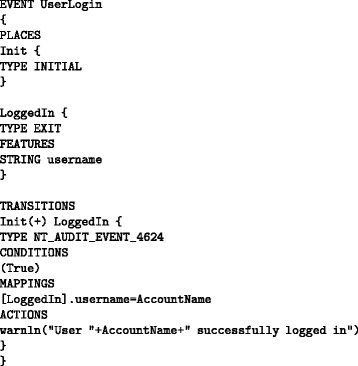 Security investigation is emerging as a research domain per se and poses several core challenges:
1.

Cyber-threat intelligence [89] is becoming ever more powerful, which poses two complementary challenges to organisations: how to organise this intelligence internally and how to face attackers having access to a similarly growing amount of information.

2.

No standardized language exists so far to support the description of abnormal behaviours, which dramatically reduces the perspectives for information exchange between various actors.

3.

The analysis of encrypted traffic is of course greatly hindered [90], whereas clear text transmission is clearly not an option and rather part of the security problem. For instance, over 95% of the traffic on Remote Desktop Protocol can be read by an external malicious user. This is likely to strongly decline with the growing security awareness in organisations. Efficient tools for investigation of highly encrypted traffic thus need to be devised to avoid an important loss of security-critical information.
6 Conclusions
In this work, we therefore propose a comprehensive framework for the study of complex attacks and related analysis strategies through statistical tools, on the one side, and machine learning tools, on the other side. It puts these complex attacks in perspective with their core applications in the security domain: detection and investigation. Although numerous works and review papers deal with individual issues of this framework [4–6], no comprehensive survey, which is a strong requirement for characterising novel threats and matching counter-measures, exist so far.
In this paper, we define a comprehensive framework for the study of complex attacks, related analysis strategies, and their core applications in the security domain: detection and investigation. This framework eases in particular the characterisation of novel complex threats and matching Artificial Intelligence-based counter-measures. We first define the core terms necessary to understand the domain: anomaly, intrusion, attack, traces, threats, and vulnerabilities and the security properties confidentiality, integrity, and availability, as well as the phases of the security analysis process: detection and investigation. Zero-day attacks and multi-step attacks are introduced and defined. The two main approaches of artificial intelligence for security analysis are reviewed: statistical analysis and machine learning techniques. Their applications in intrusion detection and security investigation are presented.
The advent of artificial intelligence (AI) thus opens up a promising field of investigation for cybersecurity [91], which already includes significant operational breakthroughs like the Darktrace behaviour analysis system3 or COSE cognitive security solution4. Darktrace is a commercial solution based on recursive Bayesian networks to model the actual behaviours of systems, users and devices and to track abnormal deviations. COSE, now part of CISCO, exploits machine learning and game theory [92] with the objective of tracking advanced persistence threats and polymorphic malwares. Both provide significant examples of technology transfer from universities, in Cambridge (UK) and in Prague (Czech Republic), respectively, to successful industrial applications.
The diverse technologies contributing to the artificial intelligence field provide numerous approaches to support both online detection and offline investigation of security anomalies. Their rapid development is providing suitable solutions for tracking targeted zero-day and multi-step intrusions in an ever growing amount of traces generated by network devices, servers and application services.
Declarations
Acknowledgements
We thank the colleagues who provided significant input to the research presented in this paper, in particular Véronique Legrand, Professor at Conservatoire National des Arts et Métiers, as well as Julie Thompson who helped with the corrections in the English language.
Funding
The research presented in this paper is founded by French Fonds Unique Interministériel (FUI) AAP-19 project HuMa (L'Humain dans la boucle pour l'analyse de données massives), as well as the French Agence Nationale pour la Recherche Technologique (ANRT) through the CIFRE grant for PhD student Fabio Guigou and enterprise IPLine.
Availability of data and materials
No specific data or material is made available for this review research paper.
Authors' contributions
PP coordinated the writing of the paper, wrote the major parts (Introduction, parts 2 and 5, Conclusions), and provided significant modifications to parts 3 and 4. JN is working on his Ph.D. in artificial intelligence for cybersecurity and contributed to part 4 and the bibliography. He contributed significant improvements to every other section. FG is working on his Ph.D. in statistical anomaly detection and contributed to part 3. He contributed significant improvements to every other section. AD is the Ph.D. director of Julio Navarro. She proof-read and added significant improvements to the paper. PC is the Ph.D. director of Fabio Guigou. He proof-read and added significant improvements to the paper. All authors read and approved the final manuscript.
Competing interests
The authors declare that they have no competing interests.
Publisher's Note
Springer Nature remains neutral with regard to jurisdictional claims in published maps and institutional affiliations.
Open Access This article is distributed under the terms of the Creative Commons Attribution 4.0 International License(http://creativecommons.org/licenses/by/4.0/), which permits unrestricted use, distribution, and reproduction in any medium, provided you give appropriate credit to the original author(s) and the source, provide a link to the Creative Commons license, and indicate if changes were made.
Authors' Affiliations
(1)
ECAM Strasbourg-Europe, Schiltigtheim, France
(2)
Laboratoire ICube, Université de Strasbourg, Strasbourg, France
(3)
Unitwin UNESCO Complex System-Digital Campus, Paris, France
(4)
IPLine, Caluire-et-Cuire, France