Unlinkable improved multi-biometric iris fuzzy vault
EURASIP Journal on Information Security
2016
2016:26
Received: 13 January 2016
Accepted: 13 October 2016
Published: 2 November 2016
Abstract
Iris recognition technologies are deployed in numerous large-scale nation-wide projects in order to provide robust and reliable biometric recognition of individuals. Moreover, the iris has been found to be rather stable over time, i.e. iris biometric reference data provides a strong and permanent link between individuals and their biometric traits. Hence, unprotected storage of (iris) biometric data provokes serious privacy threats, e.g. identity theft, limited re-newability, or cross-matching. Biometric cryptosystems grant a significant improvement in data privacy and increase the likelihood that individuals will effectively consent in the biometric system usage. However, the vast majority of proposed biometric cryptosystems do not guarantee desired properties of irreversibility, unlinkability, and re-newability without significantly degrading the biometric performance.
In this work, we propose an unlinkable multi-instance iris biometric cryptosystem based on the improved fuzzy vault scheme. The proposed system locks biometric feature sets extracted from binary iris biometric reference data, i.e. iris-codes, of the left and right irises in a single fuzzy vault. In order to retain the size of the protected template and authentication speed, the proposed fusion step combines the most discriminative parts of two iris-codes at feature level. It is shown that the proposed key-binding process enables the generation of irreversible protected templates which prevents from previously proposed cross-matching attacks. Further, we investigate the optimal choice among potential decoding strategies with respect to biometric performance and time of key retrieval. The fully reproducible system is integrated to two different publicly available iris recognition systems and evaluated on the CASIAv3-Interval and the IITDv1 iris databases. Compared to the corresponding unprotected recognition schemes, genuine match rates of approximately 95 and 97 % at which no false accepts are observed and maintained in a single- and multi-instance scenario, respectively. Moreover, the multi-iris system is shown to significantly improve privacy protection achieving security levels of approximately 70 bits at practical biometric performance.
Keywords
BiometricsIris recognitionTemplate protectionMulti-biometricsBiometric cryptosystemFuzzy vault scheme
1 Introduction
Biometrics refers to the automated recognition of individuals based on their behavioral and biological characteristics, e.g. fingerprint or face [1, 2]. It is generally conceded that a substitute to biometrics for positive identification in integrated security applications is non-existent. In past decades, iris recognition [3, 4] emerged as a rapidly growing field of research. Due to its intricate structure, the iris constitutes one of the most powerful biometric characteristics. Existing approaches to iris recognition achieve auspicious biometric performance and deployments in diverse application scenarios, such as border control, underline its tremendous impact [5]. On national-sized biometric systems, the use of multiple biometric characteristics has been found to significantly improve the accuracy and reliability especially in challenging identification scenarios [6], while recognition systems based on a single biometric indicator often have to contend with unacceptable error rates [7]. However, improvement in biometric performance as a result of biometric fusion should be weighed against the associated overhead involved, such as additional sensing cost, i.e. it is preferred to combine biometric characteristics that can be acquired in a single presentation [8]. For instance, in the Unique IDentification Authority of India (UIDAI) [9], which aims at registering all 1.2 billion Indian citizens, both irises and all fingers of a subject are acquired at enrollment. Similar national projects are also under way in Indonesia and in several smaller countries [10].
Generic iris recognition systems, see Fig.
1
a
, consist of four major modules: (1) image acquisition; (2) pre-processing; (3) feature extraction; and (4) comparison. At image acquisition, good-quality NIR images are required to provide a robust recognition, where most current deployments require subjects to fully cooperate with the system. At pre-processing, the pupil and the outer boundary of the iris are detected. Subsequently, general iris recognition algorithms transform the iris ring to a normalized rectangular texture on which image enhancement methods, e.g. histogram stretching, are applied. To complete the pre-processing, the parts of the iris texture which are occluded by eyelids, eyelashes, or reflections are detected and stored in an according noise mask. The vast majority of feature extraction algorithms follow the approach of Daugman [
3
], in which a binary feature vector, i.e. iris-code, is extracted by applying adequate filters to the iris texture in a row-wise manner. The data representation based on an iris-code offers compact storage and rapid Hamming distance-based (
H
D
) comparison.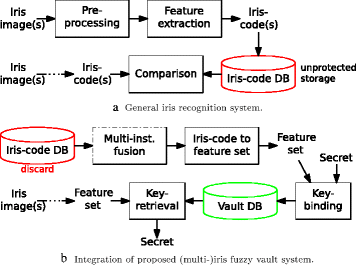 Recently, different researchers have shown that, in case an attacker has full knowledge of the employed feature extraction, iris-codes can be utilized in order to reconstruct images of subjects' iris textures [11, 12]. Such images can be presented to an iris recognition system in order to successfully launch presentation attacks [13]. In order to safeguard individuals' privacy, protection of biometric templates is of utmost importance, since unprotected storage of biometric templates poses serious privacy threats. Technologies of biometric template protection [14, 15], which are commonly categorized as biometric cryptosystems [16] and cancelable biometrics [17], offer solutions to privacy preserving biometric authentication. Biometric cryptosystems are designed to securely bind a digital key to a biometric or generate a digital key from a biometric signal [16] in order to meet the two major requirements of biometric template protection defined in the ISO/IEC IS 24745 [18]: (1) irreversibility, i.e. knowledge of a protected template can not be exploited to reconstruct a biometric sample which is equal or close (within a small margin of error) to an original captured sample of the same source; (2) unlinkability, i.e. different versions of protected biometric templates can be generated based on the same biometric data (re-newability), while protected templates should not allow cross-matching.
Apart from fulfilling the above properties, an ideal biometric cryptosystem shall not cause a decrease in biometric performance with respect to the corresponding unprotected system [19]. The vast majority of existing techniques do not satisfy desired template protection requirements in practice, mostly resulting in a trade-off between privacy protection and biometric performance [20]. The incorporation of multiple biometric characteristics to biometric cryptosystems has been found to improve biometric performance [7], while the protection of multi-biometric templates is especially crucial as they contain information regarding multiple characteristics of the same subject [21]. In contrast to conventional biometric systems, where fusion may take place at score or decision level [7], with respect to template protection schemes, feature-level fusion has been identified as most suitable. A separate storage of two or more protected biometric templates would enable parallelized attacks. In contrast, a single protected template, which has been obtained by means of feature-level fusion, is expected to improve privacy protection, since the fused template comprises more biometric information [21]. This is analogous to an access control system which requires multiple low strength (few bits) keys, where each key can be attacked individually. Such a system is less secure than one which uses a single key with a larger number of bits. Obviously, the development of multi-biometric cryptosystems is accompanied by further issues such as common data representation, storage requirement, or feature alignment [22].
1.1 Contribution of work
In this work, we present an unlinkable multi-biometric iris-cryptosystem based on the fuzzy vault scheme [23]. As shown in Fig. 1 b, one property of the proposed scheme is that it can be seamlessly integrated to an existing iris recognition system. Since it is designed to protect iris-codes, a re-enrolment of already registered subjects is not required, in contrast to proposed iris-based fuzzy vault schemes (see Section 2), which build upon specific feature extractors. The presented scheme is extended to a multi-iris template protection scheme where biometric fusion takes place at feature level, in order to maximize privacy protection. In order to minimize processing time as well as storage requirement, the fusion process is designed to retain the size of a single protected template. To maximize the entropy, and hence discriminativity, of the fused template, the most reliable feature parts of two iris-codes are combined, and based on a detailed investigation of decoding strategies, we choose an ideal trade-off between computational and biometric performance. Thereby, authentication times, which are of equal magnitude for single- and multi-iris fuzzy vaults, are kept low while accuracy is significantly improved.
The proposed system, which is evaluated on two publicly available iris databases for different iris biometric feature extractors, maintains biometric performance of corresponding unprotected baseline systems. In addition, security analysis show that the system is resistant to existing cross-matching attacks and provides cryptographically acceptable security levels confirming the soundness of the presented approach.
1.2 Organisation of article
The remainder of this article is organized as follows: Section 2 briefly summarizes related works regarding iris biometric cryptosystems and the fuzzy vault scheme. Section 3 provides a detailed description of key components of the proposed unlinkable improved (multi-)biometric iris fuzzy vault. Experiments are presented in Section 4. Finally, conclusions are drawn in Section 5.
2 Related work
2.1 Iris biometric cryptosystems
Among conceptual proposals [24, 25], the first implementation of an iris biometric cryptosystem, in which the fuzzy commitment scheme is employed [26], was presented in [27]. The fuzzy commitment scheme by Juels and Wattenberg [26] represents a cryptographic primitive, which combines techniques from the area of error correcting codes and cryptography. At key-binding, a pre-chosen key is prepared with error correcting codes and bound to a binary biometric feature vector of the same length by XORing both resulting in a difference vector. In addition, a hash of the key is stored together with the difference vector forming the commitment. During key retrieval, another binary feature vector is XORed with the stored difference vector and error correction decoding is applied. In case the presented feature vector is sufficiently "close" to the stored one, the correct key is returned, which can be tested using the stored hash. In [27], 2048-bit iris-codes are applied to bind and retrieve 140-bit keys prepared with Hadamard and Reed-Solomon error correction codes. On an in-house dataset comprising 700 iris images of 70 subjects, a FNMR of 0.47 % at a zero FMR is reported. To provide a more efficient error correction decoding in an iris-based fuzzy commitment scheme, two-dimensional iterative min-sum decoding was introduced in [28] achieving a FNMR of 5.62 % at a zero FMR on the ICE 2005 iris database [29], where bound keys consist of 40 bits. A context-based reliable component selection used to extract keys from iris-codes which are then bound to Hadamard codewords is presented in [30]. Further, diverse techniques to improve the performance and security of (iris) fuzzy commitment schemes have been proposed, e.g. [31–34]. In [35, 36], different attacks have been suggested, which utilize the fact that error correction codes underlie distinct structures. Statistical attacks based on so-called error correction code histograms have been successfully conducted against iris-based fuzzy commitment schemes in [37]. In [38], it was found that fuzzy commitment schemes leak information in bound keys and non-uniform templates. Suggestions to prevent from information leakage in fuzzy commitment schemes have been proposed in [39]. In addition, attacks via record multiplicity could be applied to decode stored commitments [40, 41]. In [33], a bit-permutation process was introduced to prevent from cross-matching attacks. It is, however, important to note that even if one uses record-specific bit-permutation processes, cross-matching may still be possible for records protecting very similar feature vectors and then even enables reversibility attacks from record multiplicity [42]. Considering proposed attacks, the security provided by iris-based fuzzy commitment is rather doubtable.
Focusing on iris, the first implementation of a fuzzy vault scheme (see Section 2.2) was presented in [43, 44] in which salient feature points are extracted from iris textures. Based on several enrolment samples, independent component analysis and k-means clustering is employed to extract 16 coefficients from most stable parts of the iris textures. On the BERC [45] and the CASIAv3-Interval iris database [46], a GMR of approximately 99 and 80 %, respectively, was achieved at a zero FMR employing 128 bit keys. In order to prevent from attacks via record multiplicity, an iris fuzzy vault which is hardened with an additional password is presented in [47, 48]. Image enhancement techniques are applied to extract iris fibres from which minutiae-like coordinates are extracted. Experiments are reported for the CASIAv1 [49] and the MMU iris database [50] achieving a GMR of at most 90 % at a zero FMR. In [51], a multi-biometric fuzzy vault based on fingerprint and iris is proposed. Secret keys, which are used to generate an iris-based fuzzy commitment, are directly encoded, fused with fingerprint data at feature level, and locked in the fuzzy vault scheme, achieving a GMR of approximately 98 % at a FMR of 0.01 % on the in-house MSU-DBI fingerprint [52] and the CASIAv1 iris database [49] for a key size of 208 bit. However, the scheme requires an additional storage of corresponding difference vectors which allows for previously mentioned attacks. Further proposal of iris fuzzy vaults, e.g. [53–55], omit a detailed description of employed iris feature encoding or experimental protocols.
The majority of proposed approaches to iris biometric cryptosystems lack a thorough security analysis. It is important to note that the length of employed keys in biometric cryptosystems represents only an upper bound for the provided security. For instance, the scheme in [27], which is designed to bind and retrieve 140 bit keys, provides a security of approximately 40 bits [51]. This reduction is mainly caused by dependencies among neighbouring iris-code bits resulting in a large entropy loss.
Apart from iris biometric cryptosystems, different approaches to cancelable iris biometrics have been proposed, e.g. [56–60]. For further details on cancelable iris biometrics, the reader is referred to [15, 61].
2.2 Fuzzy vault scheme
By design, the fuzzy vault scheme [23, 62] enables protection and error-tolerant verification with feature sets. It is due to this property that led researchers to consider the fuzzy vault scheme as a promising tool for protecting fingerprint minutiae sets [63]. This preliminary analysis was followed by a series of working implementations for fingerprints most of which are minutiae-based [64, 65]. However, the fuzzy vault scheme as proposed by Juels and Sudan is vulnerable to a certain kind of linkage attacks, the correlation attack [66, 67], that very clearly conflicts with the unlinkability requirement and (even worst) with the irreversibility requirement of effective biometric template protection. Moreover, the use of public unprotected auxiliary alignment data can ease an attacker in performing linkage attacks. As a countermeasure, an implementation for absolutely pre-aligned minutiae that avoids any correlation between related records of the fuzzy vault scheme has been proposed [68]. Another advantage from the construction in [68] is that the improved fuzzy vault scheme by Dodis et al. [69] can be used for template protection which results in significantly more compact record sizes. Compared to earlier works [63, 64], security levels have been revealed to be approximately 40 bits for single-finger fuzzy vaults. It is important to note that other linkage attacks can be applied to the improved fuzzy vault scheme but they can, however, be effectively avoided [70].
It is a widely accepted hypothesis that the fingerprint modality does not contain a sufficient amount of effective entropy to resist attacks exploiting the distribution of fingerprint features, specifically false-accept attacks. From this perspective, we should increase the amount of entropy by considering implementations for fused templates extracted from more than one finger of a person [71] or, as a promising alternative, consider other biometric modalities such as a person's iris(es).
When designing a fuzzy vault-based cryptosystem, a practical decoding strategy is needed. Though, in the original fuzzy vault [23, 62], a Reed-Solomon decoder [72] has been proposed, its resulting error-correcting capabilities are not sufficient to achieve a practical implementation for single finger. As a consequence, the use of a Lagrange-based decoder has been proposed [64] and adopted for other single-finger implementations [65, 68]. A multi-finger implementation has been proposed in [71]. If a Lagrange-based decoder was chosen for the implementation, then the decoding complexity would become infeasible. A reasonable trade-off between decoding time and verification performance can be achieved using a Guruswami-Sudan-based decoder [71, 73] of which a Reed-Solomon decoder can be viewed as a special case. In this paper, these strategies are considered for key retrieval in Section 3.4.
4 Experimental evaluation
5 Conclusions
The link between individuals and their biometric (physiological) characteristics is considered strong and permanent, particularly for iris [3]. Therefore, iris-codes must be protected in order to safeguard individuals' privacy and biometric systems' security. Albeit this is rarely the case in operational systems, favourable capture conditions (resulting in low intra-class variance) are considered a fundamental premise for biometric cryptosystems. Consequentially, compared to conventional recognition systems, biometric cryptosystems suffer from a significant decrease in biometric performance. Multi-biometric cryptosystems, which should be designed to combine multiple biometric characteristics at feature level [21], might bridge the gap between biometric performance and privacy protection [19].
The key advantages of the proposed (multi-)iris fuzzy vault scheme can be summarized in three terms: (1) in contrast to the vast majority of biometric cryptosystems, the proposed system maintains biometric performance obtained by the corresponding unprotected iris recognition system in a single- or multi-instance scenario; (2) the suggested fusion technique combines most discriminative information of two iris-codes to a single fuzzy vault and key retrieval is performed based on an analysis of suitable decoding strategies providing fast decoding times; (3) in contrast to existing proposals the presented (multi-)iris fuzzy vault scheme is designed to protect iris-codes, i.e. the protection of an iris biometric database does not require re-enrolment registered subjects.
Furthermore, it is shown that the proposed (multi-)iris fuzzy vault schemes obtain unrivalled security levels in comparison to fuzzy vaults based on other biometric characteristics. Even minutiae-based multi-finger fuzzy vaults using four fingers do not achieve higher security levels [71]. Like in the vast majority of biometric cryptosystems, obtained decoding times may limit the system to be operated in verification mode while protected biometric templates still enable a compact storage. A security analysis for the scenario where an adversary might be in possession of one iris-code prior to attacking a multi-iris fuzzy vault might be subject to future research. Finally, we note that the presented work is based on open-source software and evaluated on public biometric databases, i.e. represents fully reproducible research [85].
Declarations
Acknowledgements
This work has been partially supported by the German Federal Ministry of Education and Research (BMBF) within the Center for Research in Security and Privacy (CRISP).
Competing interests
The authors declare that they have no competing interests.
Open Access This article is distributed under the terms of the Creative Commons Attribution 4.0 International License (http://creativecommons.org/licenses/by/4.0/), which permits unrestricted use, distribution, and reproduction in any medium, provided you give appropriate credit to the original author(s) and the source, provide a link to the Creative Commons license, and indicate if changes were made.
Authors' Affiliations
(1)
da/sec – Biometrics and Internet Security Research Group, Hochschule Darmstadt, Darmstadt, Germany
(2)
secunet Security Networks AG, Essen, Germany