Research Article

Open Access
Key-Dependent JPEG2000-Based Robust Hashing for Secure Image Authentication
EURASIP Journal on Information Security
2008
2008:895174
Received: 31 May 2007
Accepted: 12 December 2007
Published: 3 February 2008
Abstract
We discuss a robust image authentication scheme based on a hash string constructed from leading JPEG2000 packet data. Motivated by attacks against the approach, key-dependency is added by means of employing a parameterized lifting scheme in the wavelet decomposition stage. Attacks can be prevented effectively in this manner and the security of the scheme in terms of unicity distance is assumed to be high. Key-dependency however can lead to reduced sensitivity of the scheme. This effect has to be compensated by an increase of the hash length which in turn decreases robustness.
Keywords
Wavelet DecompositionDecomposition LevelJPEG2000 CompressionLena ImageWavelet Filter
1. Introduction
The widespread availability of digital image and video data has opened a wide range of possibilities to manipulate these data. Compression algorithms usually change image and video data without leaving perceptual traces. Additionally, different image processing and image manipulation tools offer a variety of possibilities to alter image data without leaving traces which are recognizable by the human visual system.
In order to ensure the integrity and authenticity of digital visual data, algorithms have to be designed which consider the special properties of such data types. On the one hand, such an algorithm should be robust against compression and format conversion, since such operations are a very integral part of handling digital data (therefore, such techniques are termed "robust authentication," "soft authentication," or "semifragile authentication"). On the other hand, such an algorithm should be able to detect a large amount of different intentional manipulations to such data.
Classical cryptographic tools to check for data integrity like the cryptographic hash functions MD-5 or SHA are designed to be strongly dependent on every single bit of the input data. While this property is important for a big class of digital data (e.g., compressed text, executables, etc.), classical hash functions cannot provide any form of robustness and are therefore not suited for typical multimedia data.
To account for these properties, new techniques are required which do not assure the integrity of the digital representation of visual data but its visual appearance or perceptual content. In the area of multimedia security, two types of approaches have been proposed so far: semifragile watermarking and robust/perceptual/visual multimedia hashes.
The use of robust hash algorithms for media authentication has been extensively researched in recent years. A number of different algorithms [1–9] have been proposed and discussed in literature.
Similar to cryptographic hash functions, robust hash functions for image authentication should satisfy 4 major requirements [10] (where

denotes probability,

is the hash function,

are images,

and

are hash values, and

represents binary strings of length

) as follows.
(1)

(2)

(3)

To fulfill this requirement, most proposed algorithms try to extract image features which are invariant to slight global modifications like compression or filtering.
A robust visual hashing scheme usually relies on a technique for feature extraction as the initial processing stage, often transformations like DCT or wavelet transform [7] are used for this purpose. Subsequently, the features (e.g., a set of carefully selected transform coefficients) are further processed to increase robustness and/or reduce dimensionality (e.g., decoding stages of error-correcting codes are often used for this purpose). Note that the visual features selected according to requirement (3) are usually publicly known and can therefore be modified. This might threaten security, as the hash value could be adjusted maliciously to match that of another image.
For this reason, security has always been a major design and evaluation criterion [3, 9, 11] for these algorithms. Several attacks on popular algorithms have been proposed and countermeasures to these attacks have been developed. A key problem in the construction of secure hash values is the selection of image features that are resistant to common transformations. In order to ensure the algorithms' security, these features are required to be key-dependent and must not be computable without knowledge of the key used for hash construction. Key-dependency schemes used in the construction of robust hashes include key-dependent transformations [1, 4, 12], pseudorandom permutation of the data [13], randomized statistical features [8–10], and randomized quantization/clustering [14]. The majority of these approaches adds key-dependency to the feature extraction stage, only the latter technique randomizes the actual hash string generation stage. Nevertheless, even key-dependent robust hashing schemes have been successfully attacked. For example, the visual hash function (VHF) [1] projects image blocks onto key-dependent patterns to achieve key-dependency. A security weakness of VHF has been pointed out and resolved by adding block interdependencies to the algorithm [6]. As a second example, we mention the strategy to achieve key-dependency by pseudorandom partitioning of wavelet subbands before the computation of statistical features [9]. An attack against this scheme has been demonstrated [15] which can be resolved by employing key-dependent wavelet transforms [12] or the use of overlapping and nondisjoint tiling. Recently, generic ways to assess the security of visual hash functions have been proposed based on differential entropy [8] and unicity distance [16].
In this work, we investigate the security of a JPEG2000-based robust hashing scheme which has been proposed in earlier works [17, 18]. We describe severe attacks against the original scheme and propose a key-dependent lifting parameterization in the wavelet transform stage of JPEG2000 encoding as key-dependency scheme for the JPEG2000-based robust hashing scheme. We discuss robustness and sensitivity of the resulting approach and show the improved attack resistance of the key-dependent scheme. Note that we restrict our investigations to the features extracted from the JPEG2000 bitstream themselves and treat them as actual hash string even though a final processing stage eliminating redundancy, and so forth, has not yet been applied. After reviewing JPEG2000 basics, Section 2 discusses various aspects and sorts of JPEG2000-based hashing schemes and presents the attack against the approach covered in this work. In Section 3, the employed lifting parameterization is shortly described. Subsequently, we discuss properties of the key-dependent hashing approach and provide experimental evidence for its improved attack resistance. Also, its actual key-dependency and unicity distance is discussed. Section 4 concludes this paper.
2. JPEG2000-Based (Robust) Hashing
Most robust hashing techniques use a custom and dedicated procedure for hash generation which differs substantially from one technique to the other. Several techniques have been proposed using the wavelet transform as a first stage in feature extraction (e.g., [3, 9, 10]). The employment of a standardized image coding technique like JPEG2000 (based on a wavelet transform as well) for feature extraction offers certain advantages as follows.
(1)

Widespread knowledge on properties of the corresponding bitstream is available.

(2)

A vast hardware (e.g., Analog Devices ADV202 chip) and software (official reference implementations like JJ2000 or Jasper and additional commercial codecs) repository is available.

(3)

In case visual data is already given in JPEG2000 format, the hash value may be extracted with negligible effort (parsing the bitstream and extracting the hash data). In case any other visual data format is given, simply JPEG2000 compression has to be applied before extracting the features from the bitstream (this is the usual way JPEG2000-based hashing is applied).
2.1. JPEG2000 Basics
The JPEG2000 [19] image coding standard uses the wavelet transform as energy compaction method. JPEG2000 may be operated in lossy and lossless mode (using a reversible integer transform in the latter case) and also the wavelet decomposition depth may be defined. The major difference between previously proposed zerotree wavelet-based image compression algorithms such as EZW or SPIHT is that JPEG2000 operates on independent, nonoverlapping blocks of transform coefficients ("codeblocks"). After the wavelet transform, the coefficients are (optionally) quantized and encoded on a codeblock basis using the EBCOT scheme, which renders distortion scalability possible. Thereby, the coefficients are grouped into codeblocks and these are encoded bitplane by bitplane, each with three coding passes (except the first bitplane). While the arithmetic encoding of the codeblock is called Tier-1 coding, the generation of the rate-distortion optimal final bitstream with its scalable structure is called Tier-2 coding (see also Figure 2). The codeblock size can be chosen arbitrarily with certain restrictions.
The final JPEG2000 bitstream (see Figure
1
) is organized as follows. The main header is followed by packets of data (packet bodies) each of which is preceded by a packet header. A packet body contains CCPs (codeblock contribution to packet) of codeblocks that belong to the same image resolution (wavelet decomposition level) and layer (which roughly stand for successive quality levels). Depending on the arrangement of the packets, different progression orders may be specified. Resolution and layer progression order are the most important progression orders for grayscale images.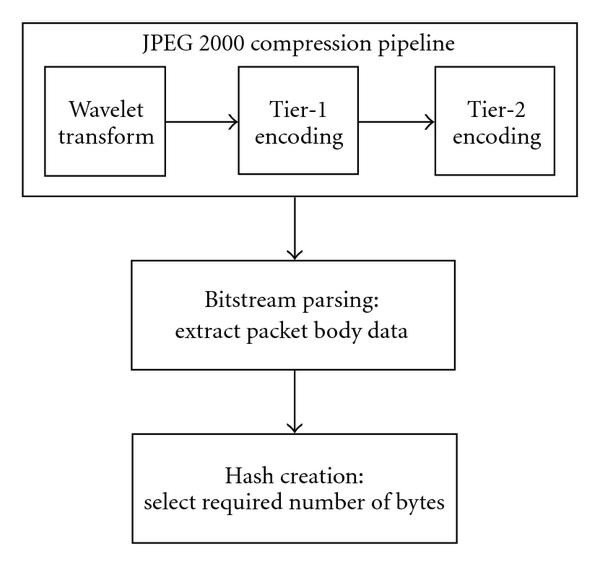 2.2. JPEG2000 Authentication and Hashing
Authentication of the JPEG2000 bitstream has been described in previous work. In [20], it is proposed to apply SHA-1 onto all packet data and to append the resulting hash value after the final termination marker to the JPEG2000 bitstream. Contrasting to this approach, when focusing onto robust authentication, it turns out to be difficult to insert the hash value directly into the codestream itself (e.g., after termination markers), since, in any operation which involves decoding and recompression, the original hash value would be lost. The only applications which do not destroy the hash value are purely bitstream-oriented like rate adaptation transcoding by simply dropping parts of the packet data. As a consequence, a possible solution to this dilemma would be to use a robust watermarking scheme to embed the hash value into the codestream, provided that the embedding does not change the features involved in computing the hash value. A different solution would be to signal the hash value in the context of a JPSEC [21] description. An elegant technical solution of how authentication can be applied to the entire codestream while it remains valid also for parts of it (e.g., scaled versions) has been derived using Merkle hash trees [22] (and tested with MD-5 and RSA).
JPEG2000-related information has been suggested recently to be used for content-based image search and retrieval in the context of JPSearch, a recent standardization effort of the JPEG committee. General wavelet-based features have been proposed for image indexing and retrieval which can be computed during JPEG2000 compression (cf. [23]). However, this strategy does not take advantage of the particular information available in JPEG2000 codestreams. The packet header information is specific to the visual content, and it is specific enough to be used as a fingerprint/hash for content search. Some suggestions have been made in this direction in the context of indexing, retrieval, and classification. In [23] the number of bytes spent on coding each subband ("information content") is used for texture classification. Similarly, in [24] a set of classifiers based on the packet header (codeblock entropy) and packet body data (wavelet coefficient distribution) is used to retrieve specified textures from JPEG2000 image databases. In [25] the number of leading bitplanes is used (means and variances of the number of nonzero bitplanes in the codeblocks of each subband are computed) as a fingerprint to retrieve specific images. Finally, in [26] the same authors additionally propose to use significance bitmaps of the coefficients and significant bits histograms.
In the following, we restrict the attention to a robust hashing scheme proposed in earlier work [17, 18] which employs parts of the JPEG2000 packet body data as robust hash—we denote this approach JPEG2000 PBHash (Packet Body Hash). An image given in arbitrary format is converted into raw pixel data and compressed into JPEG2000 format. Due to the embeddedness property of the JPEG2000 bitstream, the perceptually more relevant bitstream parts are positioned at the very beginning of the file. Consequently, the bitstream is scanned from the very beginning to the end, and the data of each data packet—as they appear in the bitstream, excluding any header structures—are collected sequentially and concatenated to be then used as visual feature values (see Figure 2).
Note that it is not required to actually perform the entire JPEG2000 compression process—as soon as the amount of data required for hash generation has been output by the encoder, compression may be stopped. JPEG2000 PBHash has been demonstrated to exhibit high robustness against JPEG2000 recompression and JPEG compression [17] and provides satisfying sensitivity with respect to intentional local image modifications [18]. As it is expected due to properties of the wavelet transform, also high sensitivity against global geometric alterations and rescaling has been reported [18] (as determined using the Stirmark [27] attack suite). While the latter properties are prohibitive for the use of JPEG2000 PBHash in the content search scenario, these specific robustness limitations are less critical for authentication purposes. In this scenario, a specific image size can be enforced (e.g., by image interpolation) before the hash is applied; and in a nonautomated scenario, image registration may be conducted before the actual authentication process.
The visual information contained in the hash string (i.e., concatenated packet body data) may be visualized by decoding the corresponding part of the bitstream by a JPEG2000 decoder (including the header information for providing the required context information to the decoder). Figure
3
shows the visual information corresponding to a hash length of 50 bytes of the images displayed in Figures 5–7 (in fact, the images shown are severely compressed JPEG2000 images).

Unless noted otherwise, we use JPEG2000 with layer progression order, output bitrate set to 1 bit per pixel, and wavelet decomposition level 5 to generate the hash string. The length of the hash and the wavelet decomposition depth employed can be used as parameters to control the tradeoff between robustness and sensitivity of the hashing scheme [14]—obviously a shorter hash leads to increased robustness and decreased sensitivity (see [17, 18] for detailed results). A shallow decomposition depth is not at all suited for the JPEG2000 PBHash application since settings of this type lead to a large LL subband. For a large LL band, the hash only consists of coefficient data of the LL band corresponding to the upper part of the image (due to the size of the subband and the raster-scan order used in the bitstream assembly stage). Therefore, a certain minimal decomposition depth (e.g., down to decomposition level 3) is a must and a short hash string requires a higher decomposition depth for sensible employment of the JPEG2000 PBHash in order to avoid the phenomenon described before.
In Figure
4
, we visualize the distribution of the Hamming distances computed among hashes of 200 uncorrelated images (i.e., perceptually entirely unrelated) for three parameter settings: hash-length 16 bytes with decomposition level 7, hash-length 50 bytes with decomposition level 5, and hash-length 128 bytes with decomposition level 6.

It can be observed that the distributions of the Hamming distances are centered around 0.5 as desired. The variance of the distribution is larger for the more robust settings, which is also to be expected. The influence of the wavelet decomposition level may not be immediately derived from these results but it is known from earlier experiments [18] that there is a trend to result in higher robustness for a lower decomposition level value (please refer also to the results in Section 3.2 on this issue). The reason is obvious—low-decomposition depth causes the hash string to be mainly consisting of low frequency coefficient data while differences caused by subtle image modifications are found in higher frequency coefficient data.
2.3. Attacks Against the JPEG2000 PBHash
In order to demonstrate the definite need for key-dependency in the JPEG2000 PBHash procedure, we conduct attacks against the approach using the sightly modified images as displayed in Figures
5
–
7
.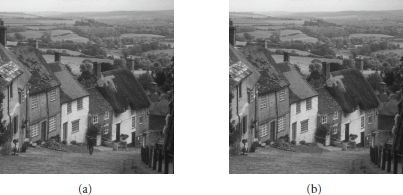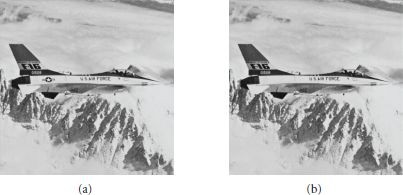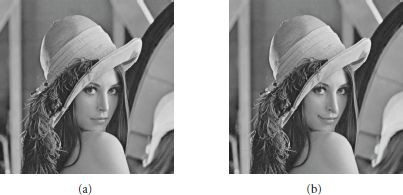 With the standard hash settings (length 50 bytes with decomposition level 5), the Hamming distance between original and modified images is 0.2 for Goldhill, 0.255 for Plane, and 0.1575 for Lena. Clearly, these modifications are detected when the modification threshold is set to a sensible value.
A possible attacker aims at maliciously tampering the modified image in a way that the hash string becomes similar or even identical to the hash string of the original image while preserving the visual content (this is the attacked image). In this way, the attacked image would be rated as being authentic by the hashing algorithm.
The attack actually conducted works as follows. Both the original and the modified images are considered in a JPEG2000 representation matching the parameters used for the JPEG2000 PBHash (if they do not match this condition, they are converted to JPEG2000). Now the first part of the bitstream of the original image (corresponding to the packet body data used for hashing) is exchanged with the corresponding part of the bitstream of the modified image resulting in the attacked image. Obviously, if the attacked image remains in JPEG2000 format, its hash exactly matches that of the original. But even if both the original and the attacked images are converted back to their source format (e.g., PNG) and the JPEG2000 PBHash is applied subsequently it turns out that the hash strings are still identical. Figure
8
shows the corresponding attacked Goldhill and Lena images. Their hash strings are identical to those of the respective originals.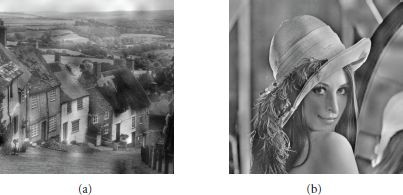 This attack is even more severe when we do not apply it to an original image and a slightly modified version as before but to completely different images. In this case we denote the attack as "collision attack" since we generate two visually entirely distinct images exhibiting an identical JPEG2000 PBHash using the same approach. Two arbitrary images (an original image and an attacked image) are either converted or already given in corresponding JPEG2000 representation. The attacked image should be modified to have a similar hash as the original image. To accomplish this, the first part of the bitstream of the attacked image is replaced by the first part of the bitstream of the original image. Figure
9
visualizes the result for the Plane and Lena image, respectively. In case the images have been present in JPEG2000 format already and remain in this format, the first image exhibits a hash string identical to that of the Lena image and the second images hash is identical to the one of the Plane image. Obviously, this does not correspond to visual perception.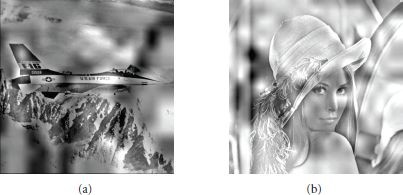 This attack facilitates the modification of a given original image in a way that its hash matches that of an arbitrary different image while the visual appearance of the attacked image stays close to the original. This can be considered an extremely serious threat to the reliability of the hashing scheme. However, the hash values can only be made identical in case no format conversion is applied. If the attacked and original images have to be converted back to a different source format, the resulting Hamming. distances between the original and attacked versions are 0.235 and 0.113, This is in contrast to the previous case when originals and slightly modified versions have been considered. Still, those differences are significantly below the values observed among uncorrelated images (cf. Figure 4).
The demonstrated attack shows that the JPEG2000 PBHash is highly insecure in its original form and requires a significant security improvement to be useful as a reliable authentication hashing scheme.
3. Key-Dependent JPEG2000 PBHash
The concept of secret transform domains has been exploited as a key-dependency scheme to some degree in the area of multimedia security during the last years. Fridrich [28, 29] introduced the concept of DCT-type key-dependent basis functions in order to protect a watermark from hostile attacks. Unnikrishnan and Singh [30] suggest to use secret fractional Fourier domains to encrypt visual data, a technique which was also used to embed watermarks in an unknown domain [31]. The many degrees of freedom available to design a wavelet transform have also been exploited in similar manner for image and video encryption [32, 33] and to secure watermarking copy-protection [34, 35] and authentication [36] schemes.
In recent works [12, 15, 37], we have proposed to use Pollens' orthogonal filter parameterization as a generic key-dependency scheme for wavelet-based visual hash functions. In the case of an authentication hash, this strategy proved to be successful [12, 15] while it did not work out for a CBIR hash [37] due to the high robustness of the original scheme. Since the orthogonal Pollen parameterization does not easily integrate with lifting-based biorthogonal JPEG2000 filters, we propose to use a different strategy in this work, compliant to the JPEG2000 Part 2 compression pipeline. JPEG2000 Part 2 allows to extend JPEG2000 in various ways. One possibility is to employ different wavelet filters as specified in Part 1 of the standard (e.g., user designed filters) and to vary the filters during decomposition, which is discussed to be used as key-dependency scheme in the following subsection.
Using a key-dependent hashing scheme, the advantage of the JPEG2000 PBHash to generate hash strings from already JPEG2000-encoded visual data by simple parsing and concatenation is lost. An image present as JPEG2000 file needs to be JPEG2000-decoded (with the standard filters) into raw pixel data and reencoded into the key-dependent JPEG2000 domain (with the key-dependent filters) for generating the corresponding hash string.
4. Conclusion and Future Work
Key-dependency is added to a JPEG2000 packet data-based hashing scheme by means of employing a parameterized lifting scheme in the wavelet decomposition stage. Attacks demonstrated against the scheme without key-dependency can be prevented effectively in this manner. Also the security of the scheme in terms of unicity distance is assumed to be high. However, key-dependency comes at a certain cost for this scheme: due to reduced sensitivity of some potentially employed filters, the hash length has to be increased as compared to the scheme without key-dependency. This leads to reduced robustness on the other hand.
In future work, we will investigate possibilities how to add key-dependency to the JPEG2000 PBHash without affecting sensitivity too much: while we have found significant variations in sensitivity among the different decompositions and filters employed, it is not yet clear if it is possible to identify subsets of the range for

where these variations could be bounded. An alternative approach is to investigate different types of key-dependency for wavelet transforms like isotropic or anisotropic wavelet packets. Additionally, we will estimate the magnitude of the keyspace available (focusing on decomposition level-dependent discretization of the

range), and we will determine the sensitivity against key modifications for the scheme in more detail to provide an approximation for an actual unicity distance value. In particular, we will investigate possibilities how to make the key-estimation procedure separable, that is, conduct key estimation for each decomposition level separately.
Declarations
Acknowledgments
This work has been partially supported by the Austrian Science Fund, Project no. 15170 and by the European Commission through the IST Programme under Contract IST-2002-507932 ECRYPT. The use of Dominik Engel's lifting parameterization implementation is gratefully acknowledged.
Authors' Affiliations
(1)
Department of Computer Sciences, University of Salzburg, Salzburg, Austria
Copyright
© G. Laimer and A. Uhl. 2008
This article is published under license to BioMed Central Ltd. This is an open access article distributed under the Creative Commons Attribution License, which permits unrestricted use, distribution, and reproduction in any medium, provided the original work is properly cited.