Research Article

Open Access
Novel Attacks on Spread-Spectrum Fingerprinting
EURASIP Journal on Information Security
2008
2008:803217
Received: 9 May 2008
Accepted: 7 August 2008
Published: 17 August 2008
Abstract
Spread-spectrum watermarking is generally considered to be robust against collusion attacks, and thereby suitable for digital fingerprinting. We have previously introduced the minority extreme attack (IWDW' 07), and showed that it is effective against orthogonal fingerprints. In this paper, we show that it is also effective against random Gaussian fingerprint. Furthermore, we develop new randomised attacks which counter the effect of the decoder preprocessing of Zhao et al.
Keywords
Robust WatermarkCollusion AttackNoise AttackUniform NoisePreprocessor Mode
1. INTRODUCTION
Unauthorised copying is a major worry for many copyright holders. As digital equipment enables perfect copies to be created on amateur equipment, many are worried about lost revenues, and steps are introduced to reduce the problem. Technology to prevent copying has been along for a long time, but it is often controversial because it not only prevents unauthorised copying, but also a lot of the legal and fair use.
A different approach to the problem is to deter potential offenders using technology to allow identification after the crime. Thus, the crime is not prevented, but the guilty users can be prosecuted. If penalties are sufficiently high, potential pirates are unlikely to accept the risk of being caught.
One such solution is digital fingerprinting, first proposed by Wagner [1]. Each copy of the copyrighted file is marked by hiding a fingerprint identifying the buyer. Illegal copies can then be traced back to one of the legitimate copies and the guilty user be identified. Obviously, the marking must be made such that the user cannot remove the fingerprint without ruining the file. Techniques to hide data in a file in such a way are known as robust watermarking. All references to watermarking (WM) in this paper refer to robust watermarking.
A group of users can compare their individual copies and observe differences caused by the different fingerprints embedded. By exploiting this information they can mount so-called collusive attacks. There is a growing literature on collusion-secure fingerprinting, both from mathematical and abstract and from practical view-points.
In this paper, we focus on Gaussian, spread-spectrum fingerprinting, where each user is identified by a random, Gaussian signal which is added to the copyrighted file (host signal). Our main purpose is to demonstrate that there are collusion attacks which are more effective than the ones studied by Zhao et al. [2]. We make extensive experiments to compare the various attacks. Our starting point is the minority extreme attack introduced in [3] in a context of non-Gaussian fingerprints.
The outline of the paper is as follows. We will introduce our model for fingerprinting in general and spread spectrum fingerprinting in particular in Section 2. We introduce our new collusion attacks in Section 3, and consider noise attacks in Section 4. In Section 5, we make a further evaluation, testing the attacks under different conditions. Finally, there is a conclusion in Section 6.
2. FINGERPRINTING MODELS
There are several different approaches to fingerprinting. It is often viewed as a layered system. In the fingerprinting (FP) layer, each user is identified by a codeword

, that is, an

-tuple of symbols from a discrete

-ary alphabet. If there are

codewords (users), we say that they form an

code.
In the watermarking (WM) layer, the copyrighted file is divided into

segments. When a codeword

is embedded, each symbol of

is embedded independently in one segment.
The layered model allows independent solutions for each layer. Coding for the FP layer is known as collusion-secure codes and was introduced in [4]. A number of competing abstract models have been suggested, and mathematically secure solutions exist for most of the models.
In principle, any robust watermarking scheme can be used in the WM layer. However, there has been little research into WM systems which supports the abstract models assumed for the collusion-secure codes, thus it is not known whether existing collusion-secure is applicable to a practical system. Recent studies of this interface are found in [5, 6], but they rely on experimental studies with few selected attacks, and the mathematical model has not been validated.
In this paper, we will consider a simpler class of solutions, exploiting some inherent collusion resistance in spread-spectrum watermarking. We focus on the solution suggested in [2].
3. THE NOVEL ATTACKS
In this section, we will consider four new classes of attacks. The minority extreme attack was introduced in a different model in [3], and the uniform attack is introduced in this paper. The last two classes of attacks are hybrid attacks, behaving as different pure attacks either at random or depending on the collusion signals. We introduce each attack separately with its rationale and simulation results. In the next section we will consider noise attacks.
Let

be the watermark identifying user

, and let

be the hybrid watermark generated by the collusion. All the heuristics we consider include the correlation
In order to avoid detection, the pirates should attempt to minimise

. Without complete knowledge of the original host

and the watermark signals used, an accurate minimisation is intractable. However, attempting to minimise

is a reasonable approximation, and this can be done by minimising sample by sample,

.
All the simulations in this section use sequences of length

with

users. The sequences are drawn from a normal distribution of mean

and variance

.
With the exception of the code size (i.e., the number of users), these are the same parameters as used in [2]. There are two reasons for using larger codes. Firstly, it is hard to come up with plausible applications for small codes. Secondly, and more importantly, larger codes give higher error rates which can be estimated more accurately.
For each simulation,

different codes are created, and one hybrid fingerprint is generated and decoded for each code. Although this is a smaller sample size than the 2000 tests used in [2], it is appropriate for tuning the attack parameters. In the next section we will run larger simulations for a more significant comparison to previous work.
4. THE NOISE ATTACK
He and Wu [5], citing [2], claim that "a number of nonlinear collusions can be well approximated by an averaging collusion plus additive noise." We did not find any explicit details on this claim in either paper, neither on the recommended noise distribution, nor on which nonlinear attacks can be so approximated. However, it is an interesting claim to explore.
We consider the following two attacks:
Three observations stand out as significant in this comparison:
Now, if a three-peak Zhao et al. type preprocessor is used, the MMX-1 attack is likely to become ineffective.
We conclude that there may be some truth in the claims that averaging attacks with added noise are the most efficient attacks known to date. However, two important points have to be noted in this context. Firstly, the noise should not be Gaussian. We do not know if Uniform noise is optimal, or if an even better distribution can be found. Secondly, the preprocessor of Zhao et al. has to be developed further to be able to cope, automatically, with all the various attacks we have studied.
5. EVALUATION
In this section, we report additional simulations of the attacks which have proved most effective so far, to see how they compare under different conditions, that is, varying

,

, and

.
We have not include simulations with real images, because all the processes studied are oblivious to any added host signal. The detector is nonblind so any host added would be subtracted before detection. Also the attacks would be unaffected by the added host signal. Hence, simulations with real hosts would not give us any additional information.
The constants, namely, the power of the fingerprint and the value of the Just Noticeable Difference would be scaled by the same factor according to perceptibility constraints in the same image. As stated, we have used the values suggested in [2], and a further study of these parameters is outside the scope of this paper.
None of the attacks discussed in Section 2.3, nor the MX attack, are effective against the preprocessor. Hence, the interesting attacks for further study are the hybrid attacks, the MMX attack with nonzero threshold, and the Uniform noise attack. The Uniform attack is a special case of the hybrid attack.
5.1. The Zhao et al. parameters
In this section, following [2], we assume

users. We have used Uniform noise with scaling factor

, and Gaussian noise with power

. The MMX-1 attack is with

, and MMX-2 with

. The hybrid attacks are with

.
The results, shown in Figures
12
and
13
, confirm what we have seen before. There is little difference between the different decoders, and the best attacks achieve error rates

against the best decoder. It seems that the parameters of [
2
] suffice to ensure reasonable robustness against known nondesynchronising attacks. However, we have also confirmed that with our novel attacks, properly tuned, the preprocessing algorithm does not improve detection.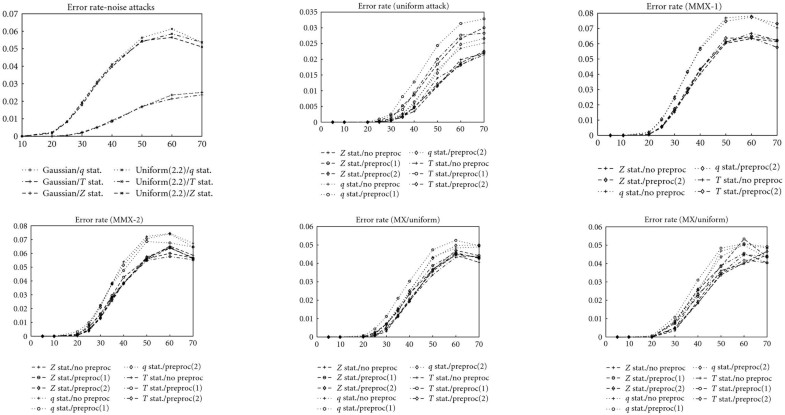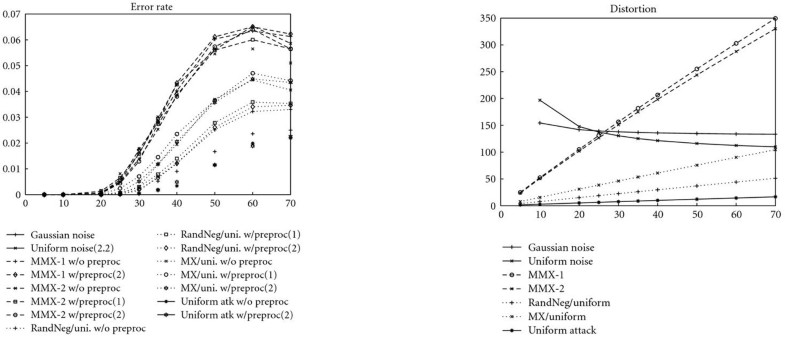 It is also confirmed that averaging with uniform noise is among the most efficient attacks. It is not feasible to run enough simulations to determine the optimal noise power or MMX thresholds for every number

of pirates. Thus, this simulation is insufficient to determine if one attack is strictly better under any given conditions.
The choice of decoding heuristic seems to matter very little, although the

statistic is consistently outperformed. No clear distinction can be made between the

and

statistics. In Figure 13 we show only

decoding.
5.2. List decoding
Since list decoding is more popular than maximum heuristic decoding in the fingerprinting literature, we will have a brief look at this as well, for comparison.
We have plotted

against

for varying threshold

in Figure 14 (left-hand side).
Figure 14 (right-hand side) shows

plotted against

for varying thresholds.
As we can see, the different attacks have similar performances. We observe that with

and

, we get only

, even in the best case for the decoder. The noise attack gives
. For

colluders and

we have

against the noise attack. It follows that the total error rate in the list decoding scenario is considerably worse than it is with maximum heuristic decoding.
If we require

as assumed in [2], the detection rate for the noise attack at

is little more than

, and at

it is about

.
5.3. Scalability
So far we have considered very small codes, which are unlikely to be of practical use. One real application of fingerprinting is for the issue of screening copies for the academy awards ("Oscar"). (See, e.g., http://www.msnbc.msn.com/id/4037016.) In this scenario the number of users is in the order of 5000. It is hard to come up with real applications with fewer users, so we run one set of simulations for

. We assumed an averaging attack with uniform additive noise on the interval

.
In coding theory and communications, it is normally expected that a well-designed code can scale freely keeping the rate

constant. With

users and the rate of the

code, we get

. The result was an error rate of

, so evidently Gaussian fingerprinting does not scale well.
A larger range of code parameters are shown in Table
2
. Admittedly, a small sample has been used, to get results in reasonable time, but the tendency is clear and consistent. Keeping constant rate, the error rate increases dramatically when the code size increases.
Codebooks of

is close to the limits of what we can simulate with our current crude Matlab implementation on a 32-bit system. Codebook storage may very well be the limiting factor also for practical applications, even though somewhat larger codebooks could be made possible by a more efficient implementation. The largest codebooks that we have tried would use 400 Mb at single precision. Significantly larger codebooks would probably have to be generated on the fly by a pseudorandom number generator, so that only the seed has to be stored.
6. CONCLUSION
We have performed an extensive experimental analysis of collusive and noise attacks on Gaussian spread-spectrum fingerprinting, and introduced a couple of novel attacks. Below, we will itemise what we consider the main outcomes of our study, as well as the key questions left open.
6.1. Observations made
(i)

The MX attack introduced in [3] is effective against common decoders with , , or statistics. However, it is not effective against the preprocessor of Zhao et al.

(ii)

The parameters suggested by Zhao et al. appear to give a fairly robust system against known (nondesynchronising) attacks.

(iii)

The uniform attack, as well as hybrid attacks based thereon, break the Zhao et al. preprocessor.

(iv)

Averaging combined with Gaussian noise is not an effective attack compared with the other attacks studied.

(v)

Averaging combined with Uniform noise is very effective. It seems to outperform the other attacks considered under most, if not all, conditions.

(vi)

Gaussian fingerprinting does not scale well from an information theoretic perspective.
Based on these observations, we conclude that the analysis of new fingerprinting schemes requires attention to a wider range of possible attacks than those considered in the literature. We have introduced a number of attacks worth mentioning, but we do not claim to have found them all.
6.2. Questions left open
The most interesting question left open by this study is a theoretical analysis of the attacks presented. This is expected to be slightly harder than the analysis of previous attacks [2], leading to more complicated formulae.
From an applied viewpoint, a more important question is how a complete fingerprint system can be designed. Very little research exists on watermarking robust against desynchronising attacks, and nobody has yet considered a combination of collusion attacks and desynchronisation. In a real scenario, the attackers will have such attacks at their disposal in addition to what we have studied.
In our analysis we have been assuming that the correct preprocessor mode can be easily determined, and we also supposed that it can be extended for a three-peak histogram. At present this is, at best, true using manual inspection. Further research is needed to implement automatic histogram analysis and application of the optimal preprocessor. It is also an open question if sufficient information is available from the histogram.
Another open direction in research is the application of collusion-secure codes (e.g., [4, 6, 9]) in a practical watermark/fingerprint system. Since Gaussian fingerprints do not scale well, they may have to be combined with an outer,

-ary, collusion-secure code. In this case,

Gaussian sequences would be used to represent the

-ary symbols of the outer codewords.
Authors' Affiliations
(1)
Department of Computing, University of Surrey, Guildford, UK
Copyright
© Hans Georg Schaathun. 2008
This article is published under license to BioMed Central Ltd. This is an open access article distributed under the Creative Commons Attribution License, which permits unrestricted use, distribution, and reproduction in any medium, provided the original work is properly cited.